A Magnificent New Home for Long Island Entertainment


The Long Island Music and Entertainment Hall of Fame is proud to open its doors to an awe-inspiring new facility in Stony Brook, NY that is dedicated to the recognition, honor, and preservation of Long Island's music and entertainment heritage. Since 2004, our organization has Inducted over 120 music artists and related professionals who will now be recognized in a permanent home. The space—covering 8,800 square feet—features a large exhibition area, theater, and an official "Hall of Fame Museum."
Our official "Hall of Fame Museum" features displays of original musical instruments, famous awards, apparel, and other memorabilia from many of Long Island's favorite artists. The wide variety of talent represented by the 120 inductees includes names like Billy Joel, Blue Oyster Cult, KISS, LL Cool J, Debbie Gibson, Louis Armstrong, the Stray Cats, and Run-DMC, among many others.
Nostalgia devotees will love our first exhibit: "Long Island's Legendary Club Scene: 1960's–1980's"—designed by world-renowned visual designer, Kevin O'Callaghan. Bask in the memories while doing a "club crawl" through the nightclubs of that era such as My Father's Place, Hammerheads, Action House/Speaks, the OBI, Mad Hatter, Pips, and Malibu, among others, where bands that included Twisted Sister, Zebra, the Rascals, the Hassles, the Illusion, Joan Jett and so many more played. Experience it all at the "Hall of Fame Museum"!
Thank you to our Presenting Sponsor, Catholic Health, and Premier Sponsor Country Carpet for their support in making the "Hall of Fame Museum" and exhibition possible.
Hours
Wednesday – Sunday
12:00 PM to 5:00 PM
Long Island Music & Entertainment Hall of Fame Museum
97 Main Street
Stony Brook, NY 11790
Get Directions
Upcoming Events
Feb 12
3:00 pm
Como Brothers
Long Island Music & Entertainment Hall of Fame and Museum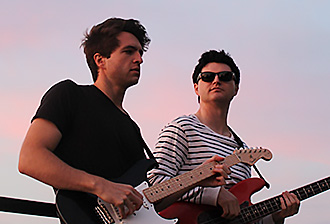 The Como Brothers, Matt and Andrew Como, are musicians (singers, songwriters and performers) from Long Island who are passionate about their songwriting, heartfelt lyrics, and recording original music. Combining a pop and rock easy listening sound with a blues vibe, they have written and recorded multiple albums and EP's of original songs. Their latest songs have been recorded with Grammy nominated engineer Kenta Yonesaka at Germano Studios in New York City. Matt and Andrew have toured the East Coast performing at venues such as the Hard Rock Café and The Cutting Room in New York City along with performances around the country from Hollywood California to Texas' South by Southwest, Florida, Boston, New York City and more.
Matt and Andrew have had songs being featured in TV shows such as E! Networks Keeping Up with the Kardashians, MTV's The Real World, and The Oxygen Channel's Best Ink and on global in-store playlists for H&M, Zara, Pull Bear among others. Their videos have been playlisted in US stores like Walmart, Costco, BJs and others. The Como Brothers have established themselves as singer-songwriters working with industry legends such as drummer Steve Jordan (John Mayer, Saturday Night Live band, Late Night with David Letterman), keyboardist Andy Burton (Little Stephen & the Disciples of Soul), Aaron Sterling (Taylor Swift), and many more.
Feb 19
3:00 pm
Buddy Merriam & Back Roads
Long Island Music & Entertainment Hall of Fame and Museum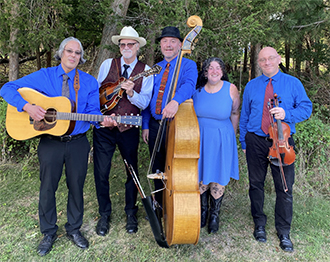 Buddy Merriam & Back Roads 2023 Buddy mandolin, Ward Cloughen string bass, Beaumont Tamchin guitar, Adam Becherer fiddle and powerhouse vocalist Nicole Evans.
Facebook/Buddymerriam
Facebook/Mandolinheritageassociation
Feb 25
8:00 pm
The Long Island Comedy Festival
Long Island Music & Entertainment Hall of Fame and Museum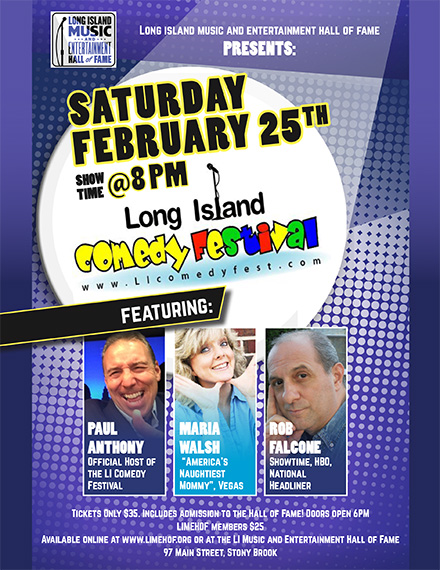 Long Island Music and Entertainment Hall Of Fame Presents
The Long Island Comedy Festival
Featuring:
Paul Anthony Official host of the LI Comedy Festival
Maria Walsh "America's Naughtiest Mommy", Vegas
Rob Falcone Showtime, HBO, National Headliner
Feb 26
3:00 pm
MJT
Long Island Music & Entertainment Hall of Fame and Museum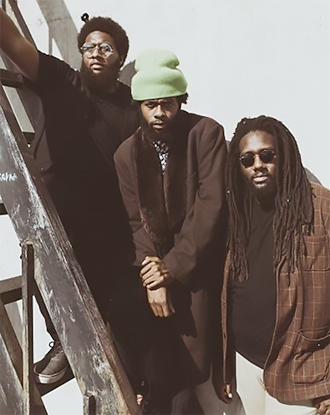 MJT IS A MUSICAL FORCE OF NATURE AND LONG-TIME FIXTURE OF LONG ISLAND'S LIVE MUSIC SCENE.
VOCALS, GUITAR / DAVID GODFREY
KEYBOARD, / MATT GODFREY
DRUMS / JORDAN GODFREY
Mar 12
3:00 pm
Gene Casey Duo
Long Island Music & Entertainment Hall of Fame and Museum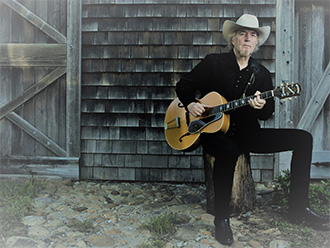 In the latter part of the last century, GENE CASEY departed New York City and its Punk rock/New wave scene for Long Island's East End. There, he formed the Lone Sharks, "the house band of the Hamptons," where bars were plentiful and audiences – both the local and the celebrated – were robust and loyal. Over the course of the next few decades Gene and the evolving line-up of Sharks "played – and tore up – every roadhouse, bar, and honky tonk from Manhattan to Montauk" (Bop Magazine), sharing the bill and backing legendary roots rock & roll acts as Wanda Jackson, the Band, Bo Diddley, Sleepy LaBeef, NRBQ, and the Ventures.
Gene's original music met with great acclaim with local and international indie radio play. Several of his roots-drenched songs have been used in "A Prairie Home Companion" and on the soundtracks to television and feature films, including "Justified" and "Sons of Anarchy" ; the 2012 thriller "The Tall Man" starring Jessica Biel, the 2013 release "The Killing Season" starring Robert DeNiro, and Rob Reiner's "Being Charlie."
In 2014 Gene and the Lone Sharks were inducted into the Dan's Papers "Best of the Best" Hall of Fame, having been honored over 20 times. A year later Gene, "the premier barroom troubadour of Eastern Long Island" (author Josh Alan Friedman) received the Long Island Sound Award by the L.I. Music Hall of Fame, "for contributions to the Island's musical landscape."
Mar 19
3:00 pm
Mark Newman
Long Island Music & Entertainment Hall of Fame and Museum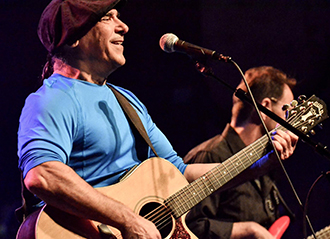 Growing up in New York, Mark Newman's musical journey has taken him around the world several times as both sideman and singer/songwriter. This ace stringman (guitar, lap steel, mandolin, dobro) and accomplished songwriter is the type of singer whose warm and expressive voice sounds like an old friend. He put it all together on 2006's "Must Be A Pony" (Danal Music, LLC). In 2010 he took a quantum leap forward with the stunning "Walls Of Jericho" (Danal Music. LLC) and has just released, "Brussels"( Danal Music. LLC), a live solo EP. "Empirical Truth", his latest CD was released in June, 2018 (Danal Music, LLC, distributed by WBA Records). It won best CD from the Long Island Blues Society.
Sharing the stage with such notables as soul legend Sam Moore (Sam & Dave), John Oates(Hall and Oates), Jim McCarty (Yardbirds, Renaissance),the late Willy DeVille (Mink DeVille), Bobby Whitlock (Derek and the Dominos), Sam The Sham and Darlene Love has given Newman the perspective to craft an individualistic sound framed in straight-from-the-hip rock'n'roll, simmering with the subtle flavors of blues, R'n'B, funk, folk and soul.
Mar 26
3:00 pm
The Eagle River Band
Long Island Music & Entertainment Hall of Fame and Museum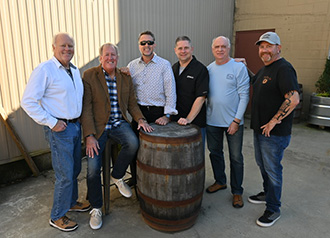 This 6-piece Eagles Tribute Band has been entertaining audiences from Fire Island to Greenport since 2017. We are eager to bring the music of the Eagles to the stage at the Long Island Music and Entertainment Hall of Fame this March. The band features six vocalists and three guitarists bringing the soaring harmonies and signature riffs of the Eagles to life. Hope to see you there!
Apr 02
3:00 pm
The Toby Tobias Ensemble
Long Island Music & Entertainment Hall of Fame and Museum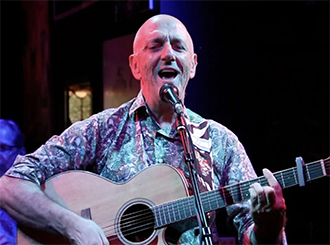 Born and raised in Johannesburg, South Africa, Huntington Station-based Toby Tobias has immersed himself in many genres of American Music while never leaving behind his roots in the rhythms and melodies of his homeland. His keen ear for intuitive arrangements is a hallmark of his writing and performance, and he has garnered a strong following on Long Island and in the tri-state area. The Toby Tobias Ensemble consists of some of the best musicians on Long Island and performing at LIMEHoF will be:
Toby Tobias / Acoustic Guitar & Vocals

Bill Titus / Electric Guitar & Vocals
Glenn Palermo / Bass
Andy Witt / Drums
Michael Amendola / Tenor Saxophone
Apr 30
3:00 pm
Somehow Sorry
Long Island Music & Entertainment Hall of Fame and Museum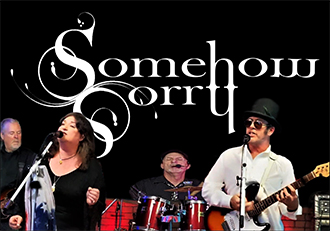 Accessibility
The Long Island Music and Entertainment Hall of Fame is committed to ensuring that its facilities, exhibitions, and services are accessible to all individuals. Should you have a question, please contact us prior to your visit at (631) 689-5888 or info@limusichalloffame.org.
Venue Accessibility
The museum's entrance, exhibitions, and restrooms are accessible by wheelchair.
All public floors of the museum can be reached by elevator.
Service animals are permitted.
Strollers are permitted.
Auditory and Visual Accessibility for Exhibitions
The museum is currently exploring options for assisting our guests with auditory and visual challenges.
Website Accessibility
Please read about our efforts towards website accessibility on our policy page: https://www.limusichalloffame.org/accessibility-statement/.